It is widely recognized within the marketing community that digital advertising has taken over as the dominant category for media spending. What you may not know is that print media, and not television, has fallen off sharply in recent years due to the digital boom.
The following is an overview of recent data highlighting the drop-off in print media spending as a result of rapid digital advertising growth!
Digital Advertising Growth Data
Digital media surpassed television for the first time in 2017 in the United States, with companies pouring nearly $86 billion into digital ads. As the Forrester graphic below illustrates, digital advertising growth isn't expected to stop anytime soon. This trend holds true globally as well.
Source: Forrester
In 2017, digital categories accounted for 37 percent of all media spending in the U.S., according to Statistica, just ahead of the 35.8 percent companies invested in television. By 2018, digital is expected to rake in 44.9 percent of ad dollars, while television falls to 32.9 percent.
Notice in the eMarketer data comparing TV versus digital spending that investment in television is actually expected to grow slightly in the next few years. This point isn't intended to suggest that TV hasn't been harmed by digital advertising growth, but it is supposed to suggest that other media categories are the ones truly suffering from the digital boom.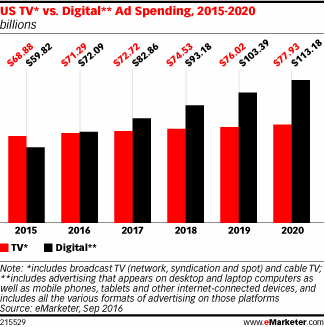 Print Media Struggles
The real eye-opening answer to the question, "What is digital advertising doing to other media?" is that it is crushing traditional print categories like newspapers, magazines and directories.
In 2010, these categories accounted for 14.8 percent (newspapers), 9.9 percent (magazines) and 5.8 (directories) of media spending, for a combined 30.5 percent. In 2017, newspapers diminished to 6.6 percent of spending, and these three print categories were down to 15 percent combined. The drop-off is expected to continue with digital advertising growth, as these categories will represent just 12.7 percent of media spending by 2020, according to Statistica.
A Statistica chart of newspaper circulation in the United States from 1985 through 2016 emphasizes the point even further. During that time, circulation has been cut by nearly half, with approximately 14 million fewer subscribers in 2016 as compared to 2008.
Conclusions
As mentioned, you probably didn't have to read this article to learn that digital advertising growth is real and substantial. However, if you assumed that television was the biggest loser because of this reality, that is incorrect. Print media struggles have been the biggest off-shoot of the digital boom.
For more great insights on digital advertising and related topics, subscribe to our email feed or periodic newsletter!